Welcome to my site ! I'm delighted to take you on a small trip throughout my work and realisations.
Have fun and hope to see you soon at your next event.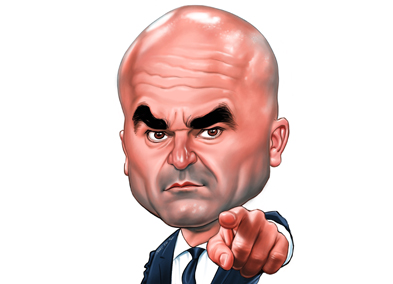 Guess Who?
Carrefour and Cartamundi launched a Guess Who? game around the Red Devils and the Red Flames. With my caricatures. What an honor!
Count
Paul Henri Maria Graaf Buysse (Antwerp, March 17, 1945) is a successful Belgian businessman. And he has an authentic Marc De Roo hanging above his bed.
Bjorg
I would rather have made this portrait of the very promising cyclist Bjorg Lambrecht for another occasion. Still, it was a great support to the parents of the regretted professional rider I knew personally.
House Of Weddings Quality Label
Marc De Roo is an official Partner of the House of Weddings Quality Label which gathers the best and most trustworthy Wedding Vendors in Belgium.
Read all about the Quality Label on
www.houseofweddings.com
.
Batibouw on iPad Pro
Drawing on the new iPad Pro is super. I could test it extensively during Batibouw where I made caricatures for 10 days at the Wienerberger booth. The drawings appeared on the big TV screen!
Present for beloved
A caricature is a very nice and original gift. For example, for your loved one, pictured with his/her hobby. As a cycling fanatic, scuba diver, stamp collector, …
Caricatures on tablet
Cute novelty at events: digital caricatures on the iPad Pro. For companies who value innovation. Such as Wienerberger, Partena, The Reference, MSD, EURID, Media Markt, … The lucky ones got their caricature printed, and sent by mail.
Exxonmobil
Recently, the top man at Exxon Mobil came from America to Belgium to celebrate his retirement with the European Management team. He is a big fan of René Magritte, and received this caricature as a gift.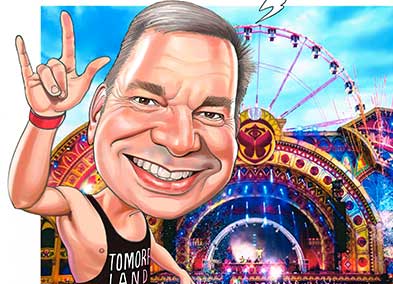 New DJ
I regularly receive requests to draw cartoons and caricatures from the headquarters of Adecco in Switzerland. CEO Patrick De Maeseneire was drawn here as a DJ at Tomorrowland.
Workshops
The workshop I gave in caricature drawing at the West Flemish section of FGTB was great fun. The weather was excellent, the participants of the workshop extremely enthusiastic and this lovely lady was very proud of her caricature.
Bingo Bango
I drew this illustration for the campaign of the new Bingo Bango burgers. The task was to create a real babe. Mission successful I think.
BeemsterKaas
This Beemsterkaas image is well known by almost everyone. I was asked to make the illustration, which is still used after all these years. Nice detail: my son Maxime posed for the boy with cap and sandwich.
A caricaturist at your next event ?
Great fun ! Watch my video.
Digital caricatures and the making of: always fascinating.
The iPad Pro is an incredible drawing tool. It's a whole new way of drawing with great possibilities. People always find it fascinating to see how artwork is created. With digital caricatures a "making of" video can be created now. With appropriate background music or the company logo integrated. Ideal for a celebration, a presentation, or just to have and keep!